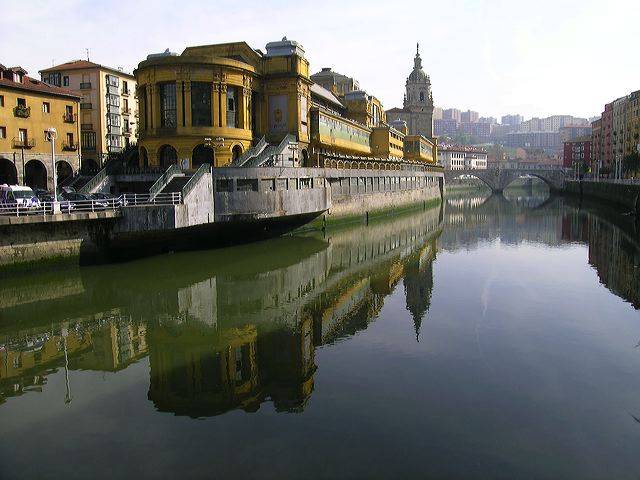 The restoration has been implemented in six phases, with tower stabilisation work and replacement of non-recoverable elements,rebuilding and strengthening inner areas of each of the two wings of the market. We are interested in the renovationwork in the Ribera Market in Bilbao, a job carried out by architect Emilio Doors with Jon Lecube Angulo and Jorge Moreno Higuera as key partners. The intervention, which has been completed with the city of Bilbao, covered 9,993 m2 and had a material budget of 18,379,632 euros. We contacted the studio and they provided us with the following details about the features of this refurbishment.
BACKGROUND
The Ribera Market in Bilbao was constructed on the site where traders always stopped to sell their products. Until 1928, construction tended to follow the 19th-century European trend of large central markets built with new iron technologies. In 1929, the current building was built, designed by architect Peter Ispizua Bermeo, which uses an eclectic style combining a neoclassical composition with a rationalist structural basis.
THE STRUCTURE
The structure of this building is one of the first to use the technique of reinforced concrete in Bilbao, and was done by a progressive lightening of the frame in height, 6 x 6 metres in the basement, 12 x 6 on the first floor and 12 x 12 on the top floor. The Market is 130 m long and 30 m wide and has three basilica floors, one of which is half-buried. It has a symmetrical composition of five parts: a central body crowned by an octagonal skylight marking the maximum height of the building, two wings, and two apses, framed by four towers. The building underwent several transformations before reaching its current state, the last of which came in 1983 after the floods. The Bilbao City Council proposed a comprehensive reform of the Ribera Market, which would be carried out by Emilio Gates as chief architect. At first, in the drafting stage of the Construction, a study was requested to scientifically diagnose the state of the structure. The report issued revealed unexpected and serious problems in the existing structure: general deterioration of the reinforcement due to chlorides, and a lack of support capacity in the structure in view of the legislation in force. So, knowing this information, the rehabilitation project suffered a major strategic shift since the Ribera Market required a larger intervention to replace almost all of the structure. They replaced the parts that are basically structural and preserved the eight towers together with frames that bind them to the façade. In addition to contributing to the composition of the building, they are the only elements that can be emptied, stabilised, and recovered. The entire restoration was implemented in six stages, corresponding to tower stabilization work and replacement of non-recoverable elements, reconstruction, and strengthening of internal positions for each of the two wings of the market. And is time to talk about program of needs.