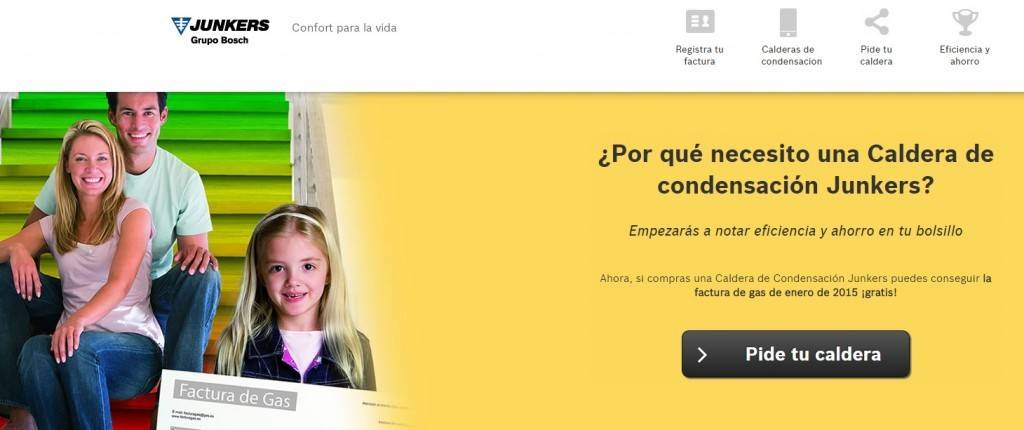 This past October 31 has been celebrated World Savings Day. This is the par excellence event to reflect on the whims and real needs. And therefore, has created the promotion Do you want me to pay the bill for January 2015? Where buying a condensing boiler Junkers, between October 15 and December 31, 2014, Junkers, pay the gas bill on January 2015 to the first 50 registered shopping on the promotion web www.ahorroengas.junkers.es.
This action proves the commitment of this brand Bosch Group for condensing boilers as an optimal form of warm the building and hot water with a maximum savings. The efficient homes are not a matter of the future. Currently, a house can generate large savings in consumption of water and gas, thereby saving energy and preserve the environment. Simply installing for example Junkers condensing boilers with yields of up to 109% in substitution of conventional boilers, you can save up to 30% on the gas bill.
Condensing technology in boilers is not a new technology but it does very relevant to the assume greater prominence in the personification of a wall boiler type in our country, something unthinkable 10 years ago. Today it is universally admitted the high levels of performance of this type of boilers, even working at facilities in conventional radiators, not only confined to be applied with underfloor heating.
The origin of the World Savings Day dates back to 1924, when delegates from many countries gathered at the International Congress of savings for several days.
For more information: www.junkers.es .
Press contact:
Lorenzo Jimenez
Phone: +34 91 3279 226
e-mail: prensa@es.bosch.com