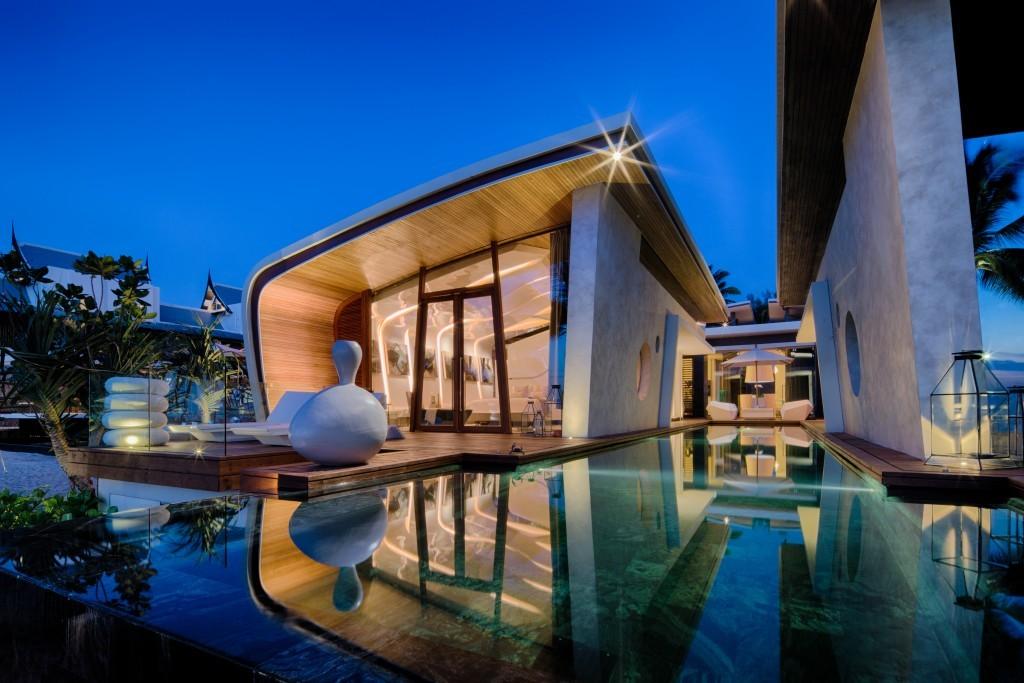 We present one of the latest international projects of the Architectural studio A-cero led by Joaquín Torres and Rafael Llamazares. This project is an Interior Design development in an unique and exclusive hotel in Thailand. Located in the bucolic coast area of Natai Beach in Phuket, this place is characterized by its calm, the vast sands and the turquoise blue waters.
This little luxury hotel resort was conceived to enjoy your stay surrounded by good design. The complex has 10 villas designed by different well-known international architects firms.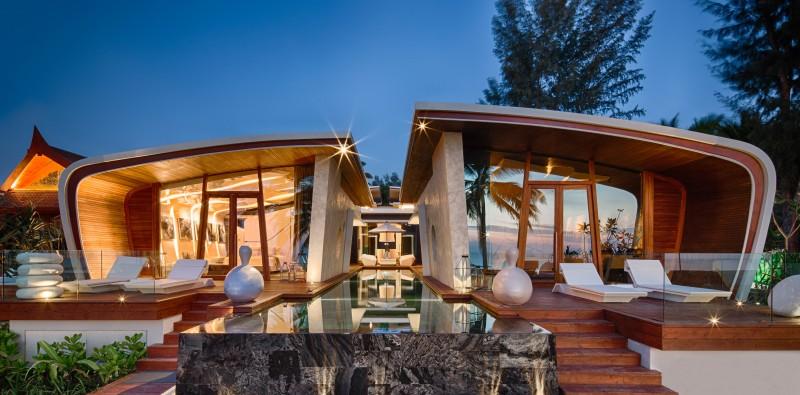 A GREAT PROJECT
The project developer entrusted to A-cero the Interior Design of two rooms of one of the villas, concretely the Villa Bianca. Moreover, A-cero developed the design of the restaurant of the hotel, Aziamendi (with 3 Michelin Stars) as well as the exterior chill out area where you can enjoy the amazing views. A-cero have designed absolutely everything, even the furniture.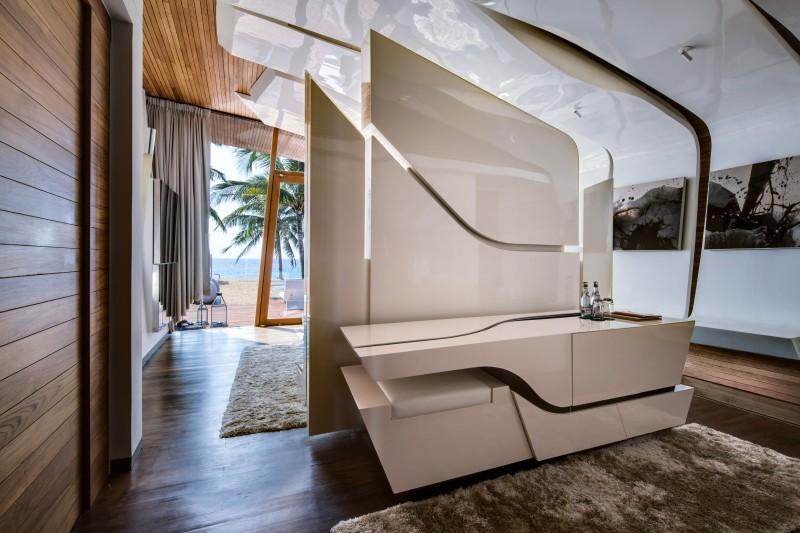 THE ROOMS
Both rooms designed by A-cero are on the seafront. Two shell shape bungalows sharing an exterior swimming pool. Both elements play with each other and we tried to achieve the opposite interior design between them. In the first room, the vertical lines flow introducing into the sight of the visitor. In the second room the curved lines move horizontally embracing the space around. It is a game of vertical and horizontal lines that wrap the space. Looking for the "ying & yang" and different sensations for each other. The furniture of the rooms is born in each of the curved lines that create the rooms.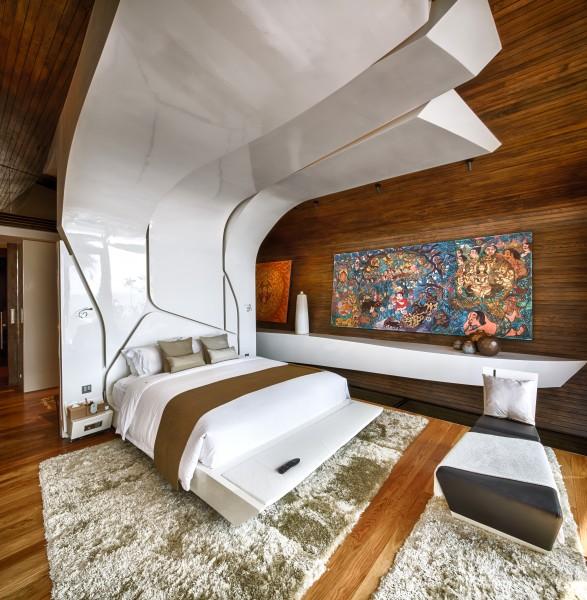 The natural local wood is used for the floors and the walls of the rooms, looking for a natural environment according to the exuberant surroundings. In each of these rooms we have changed the disposition of the elements to make them different. The first room has light wood horizontal sense floor and dark wood ceiling.
The project developer and the owner of the hotel trust again in Spanish professionals.
For the restaurant they contacted with the recognized three Michelin stars chef Eneko Atxa, who has his local restaurant Azurmendi in Vizcaya, Spain.
Once the proposal was accepted, the chef got involve with the project to implement the kitchen and the menu of Aziamendi, the name of his restaurant in Iniala.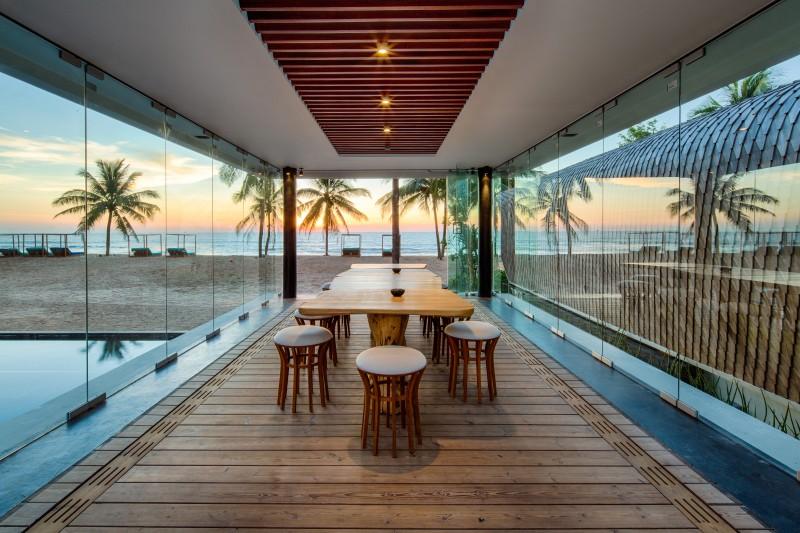 THE RESTAURANT
A-cero has designed this restaurant for the guests of the hotel. The restaurant with capacity for 70 diners also includes a bar and an area with big size tables. The restaurant installations are thought taking into account the kitchen requirements and the needs given by the Spanish chef Eneko Atxa.
The design of a restaurant has created a welcoming place. In continuation with the style of the rooms, the restaurant has been designed with curved lines and natural materials. The fact that the restaurant is a glass box, allows the guests to view the surrounding landscape. The wood is used for the ceiling and the main walls. In this case we have designed different wood panels for the ceiling to simulate the movement of the waves.
With the intention to maximize the form of each wood panel, the floor has been designed with light wood and the ceiling with dark wood.
The tables of the restaurant have been designed exclusively by A-cero. The curved lines and the natural wood give identity to the space. The tables have been designed for two guests, but thanks to its modular design, we can easily obtain the size requested for the tables.
The Platner chairs from Knoll, designed by Warren Platner in 1966 are the perfect complement. These chairs have been upholstered with light green velvet to integrate them with the local vegetation.
The exterior chill out designed by A-cero complements the restaurant and the guests can enjoy an appetiser next to the sea. With sliding doors and A-cero design furniture you can enjoy the ocean views and the smell of the sea. The tables have the same modular design of the restaurant, with Platner design high seats upholstered with waterproof leather. Once again A-cero design transcends borders and carry us to the incredible beaches in Phuket with this exclusive hotel