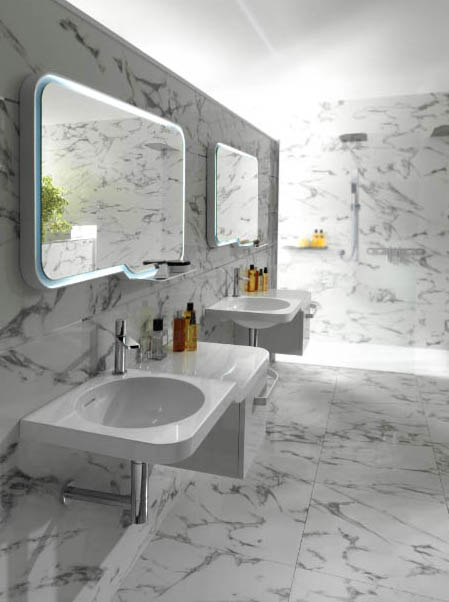 The elegant yet strong rounded lines of the Forma collection with smooth rounded finish, makes this collection the perfect choice for any body who wants to create a contemporary yet cosy bathroom.
The rounded edges and the distinctive lines of the Forma collection are also present in the toilet. The toilet and bidet are available in wall hung version. Again, the components appear to be floating and transmit lightness to the collection. The toilet seat has SoftClose funtion.
Noken rises to the challenge of saving water and energy with the launch of its new Forma range of brassware. This will be the newest addition to the Porcelanosa group's range of ECO product.
The R&D of the Porcelanosa group is focused toward its environmental responsibility. The Forma incorporates 2 basic functions contributing to a more sustainable environment – A new opening system on the cold water and an eco aerator.
When the Forma tap is opened at the centre position only the cold water is released, unlike a standard basin mixer that has a traditional blend mode which lies in the central position of the tap. This results in consumption of hot water thus eliminating energy consumption that is when heating the water.
With the Forma mixer moving the head to the left will start the flow of hot water, giving the user more control.